The Ladies Club of the University of Environment and Sustainable Development (UESD), has launched its version of this year's Breast Cancer Awareness month and breast screening for its members. It was held in the Auditorium, Multipurpose Building of the University and patronised by the male staff members as well.
The launch, on the theme; A coin to save a breast, was also used to raise funds to support members who may have signs and symptoms of the disease. The global theme for the Breast Cancer Awareness month is: ''Living Beyond Breast Cancer'.
A Physician Assistant from the Yilo Krobo Polyclinic, Madam Joan Tenkoramaa Preko, educated the participants on the disease and demonstrated how to do self-examination for early detection. She was accompanied by two midwives, Madam Catherine Sackeytey and Madam Mary Asamoah.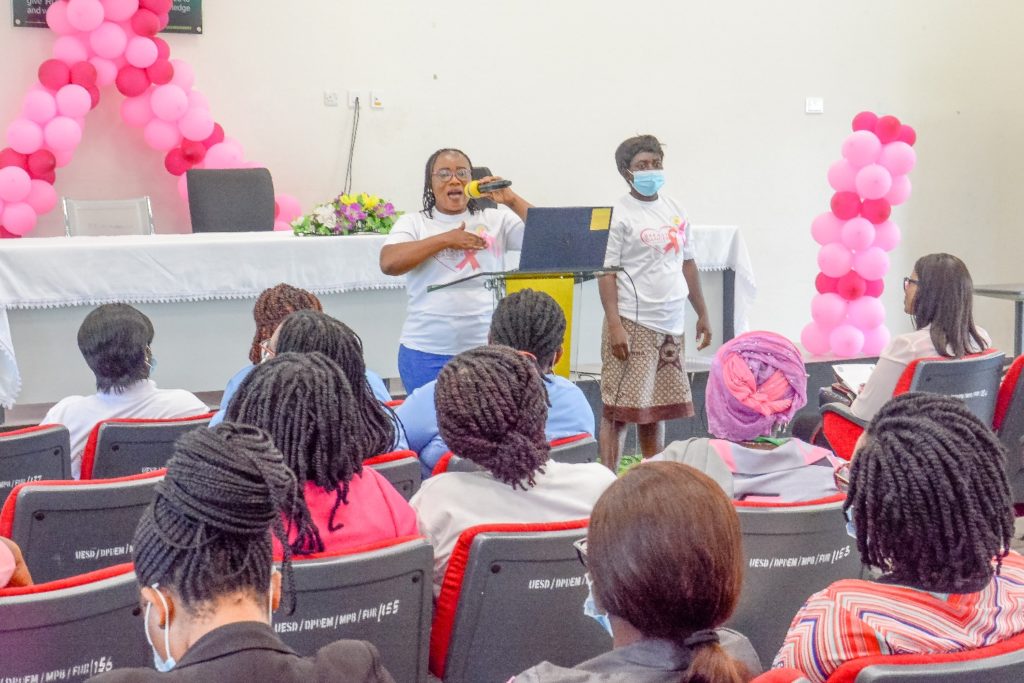 Madam Preko defined Breast Cancer as an abnormal growth of cells in the breast that can spread to other parts of the body. According to her, it is the leading cause of cancer among women in Ghana, followed by cervical cancer. She indicated that even though men can also have breast cancer, the percentage is negligible (about 1%).
She said, globally there are about 1.7 million new cases of breast cancer with more than 500 thousand associated deaths. Adding that early detection is key to successful treatment and cure.
The Guest Speaker, Mrs. Yvonne Decker-Fatal, a breast cancer survivor, narrated her harrowing experience from the period of diagnoses, treatment and her fight to survive the condition. She said, she had to undergo two horrifying rounds of chemotherapy and ancillary treatment to be cancer-free coupled with the unspeakable financial burden it came along with.
She underscored that, death is inevitable but being diagnosed with cancer feels like, ''you've been lined up for firing squad and your turn will soon be up.'
Mrs. Decker-Fatal, a stay home mum of three (3) and proprietor of Yonnies Wellness Journey, told her audience that through the examinations she underwent, she learnt that all breast cancers are not the same. There are different types of breast cancers not only found in women but in men as well.
She said, sadly she lost her mother twelve (!2) years ago to Cervical Cancer. She called for support for cancer patients, describing it as crucial.
The Chairperson was the Registrar of the University, Mrs. Mary Abena Agyepong, who expressed passion for Breast Cancer education and early detection. She encouraged women in their thirties and above, to at least undergo a monthly self-check and seek medical assistance when a lump is detected.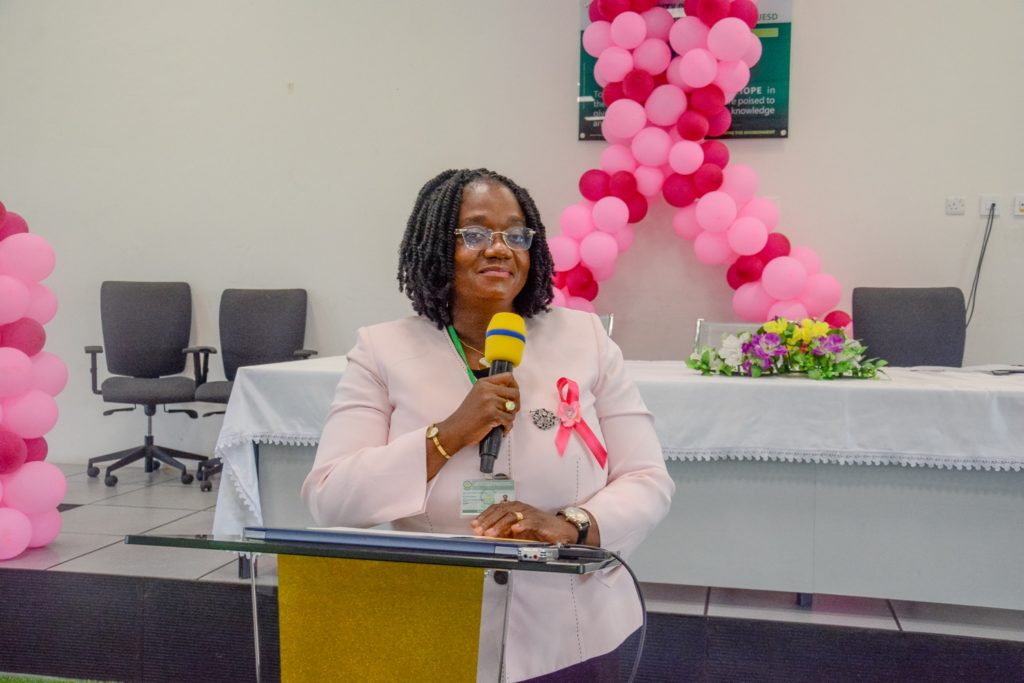 Mrs. Agyepong stressed the need for physical, mental, emotional and spiritual support for people living with Breast Cancer because, treatment and medication are a hurdle for them and their families.
The programme was climaxed with fundraising which was championed by the Chairperson, Mrs. Mary Abena Agyepong and was actively supported by the members particularly the men.