The Registrar of the University of Environment and Sustainable Development(UESD), Mrs Mary Abena Agyepong,
has stressed the need for society to be sympathetic and empathetic towards persons living with breast cancer:
Showing such care, she noted has the potential of giving them some form of respite from the pain, fear and anguish they experience.
Mrs Agyepong said this at a brief ceremony at the university to mark the end of the Breast Cancer awareness month, also referred to as the PINK month.
It was organized by a five-member team at the Registry, led by the Senior Assistant Register, SAR, in charge of Administration and Services, Mrs Vivian Degreat Aidoo.
According to Mrs Agyepong, medical experts say breast cancer, unlike other diseases usually starts in a subtle way thereby eluding its victims till it is too late for treatment.
This characteristic of the disease, to health officials make it very deadly and therefore requires constsnt diagnosis for early detection and management.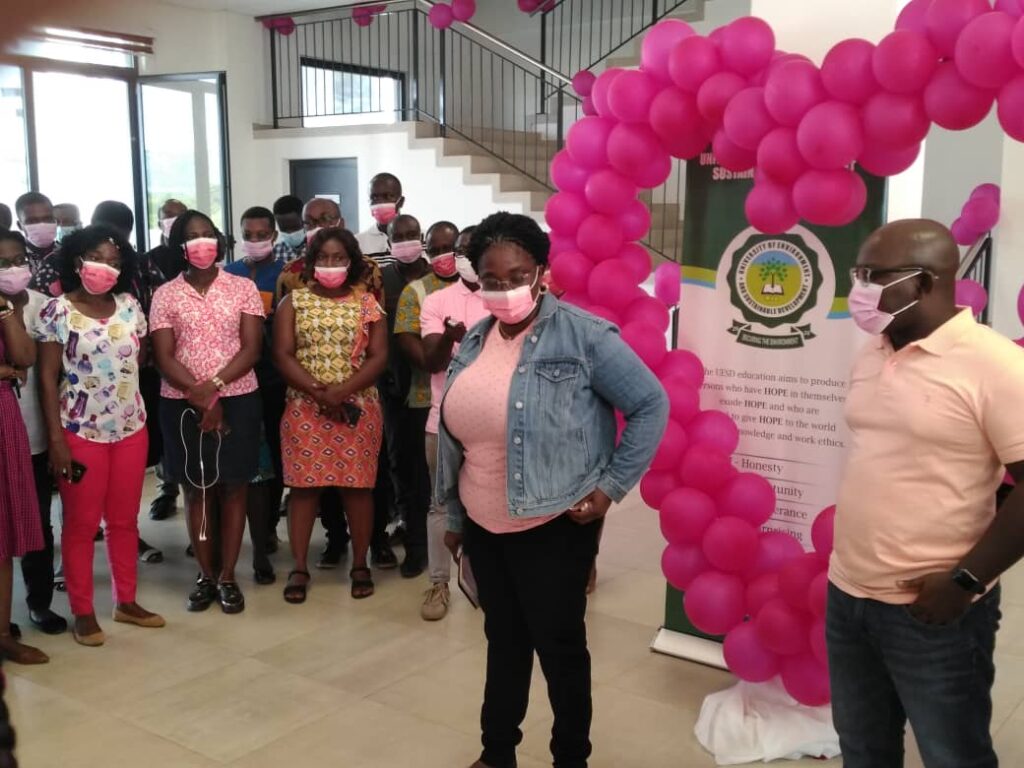 Mrs Agyepong noted, 'experiences shared by people who have suffered breast cancer, show the breast disease often affects the confidence level of persons living with the disease and gradually lead them into depression as their self- worth and sense of reason to live erodes gradually.'
The Register was happy the world has made strides in science and technology, in the fight against breast cancer, especially, through mammograms, a screening device for detecting the disease.
She however bemoaned the inadequacy of such an important machine in most hospitals more especially in the hinterlands which could increase the rate of infection on grounds of late detection .
She made an urgent appeal to policy makers and philanthropists, to help install mammograms in all hospitals across the country, to enhance easy access for early detection of breast cancer, for the necessary interventions to fight it.
The lead organizer of the ceremony, Mrs Degreat Aidoo, thanked all those who supported them, to get the breast cancer message to the university community.
She indicated that the seriousness of breast cancer and its adverse effects on sufferers , their families and the country as a whole, in terms of loss of quality Human Resources, call for everything to be done to sustain awareness especially for people to seek early medical attention any time they notice any change in their breast.
During the month of October, a health talk and breast cancer screening were held for members of staff of the university.