The climax of the Third Commencement Lecture of the University of Environment and Sustainable Development (UESD, were the outdooring of the institution's cloth & flag and the launch of the Student's Handbook. This was held at the Forecourt of the Multipurpose Building on Saturday, 11th February, 2023.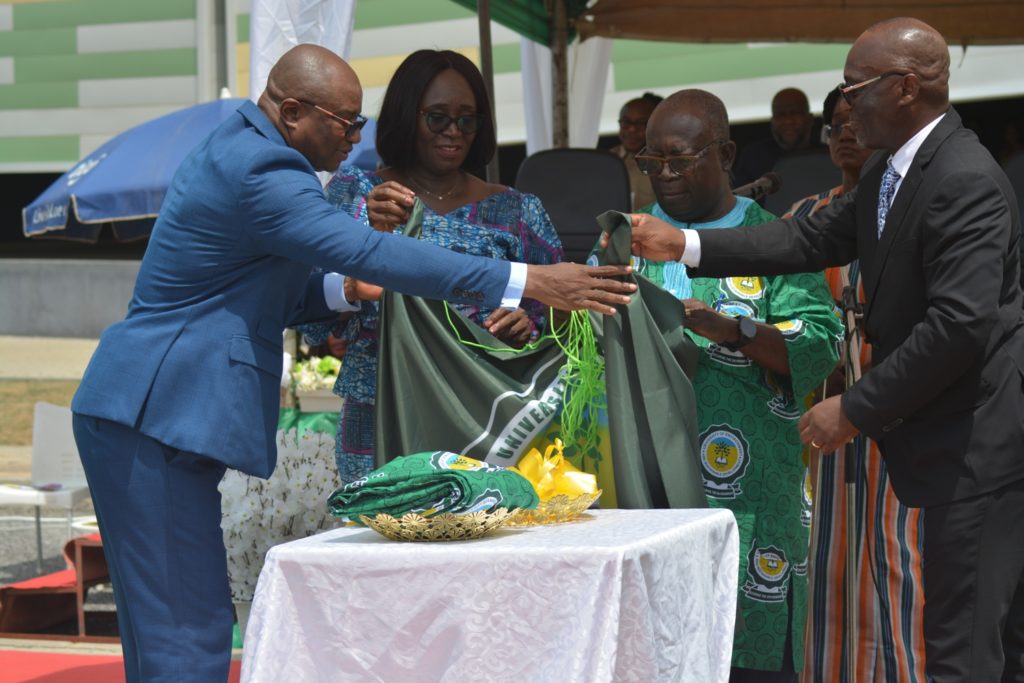 It was attended by members of the University Community, students, the Clergy, members of the governing council, representatives from the security services, and some invited guests. The Guest Speaker was a Water consultant with the WRI-CSIR, Rev. Dr. Ing. Appiah Duah, while the Deputy Minister of Education in charge of T-VET, Hon. Mrs. Gifty Twum-Ampofo was the Guest of Honour.
The UESD cloth was designed by Miss Elorm Abla Kokui Kpodo, an Administrative Assistant, who was among the first batch of National Service Personnel posted to the University.
The Registrar, Mrs. Mary Abena Agyepong, explained the colours and patterns of the logo in the cloth. She said, Green in the logo stands for Vegetation, Blue – for water and the sky, the Book symbolises knowledge, Yellow – also represents part of our vegetation, and the minerals, and the three Round Circles at the base of the book signifies technology, the wheel that will carry UESD into the future and the Ribbon beneath carries the motto of UESD: Securing the Environment.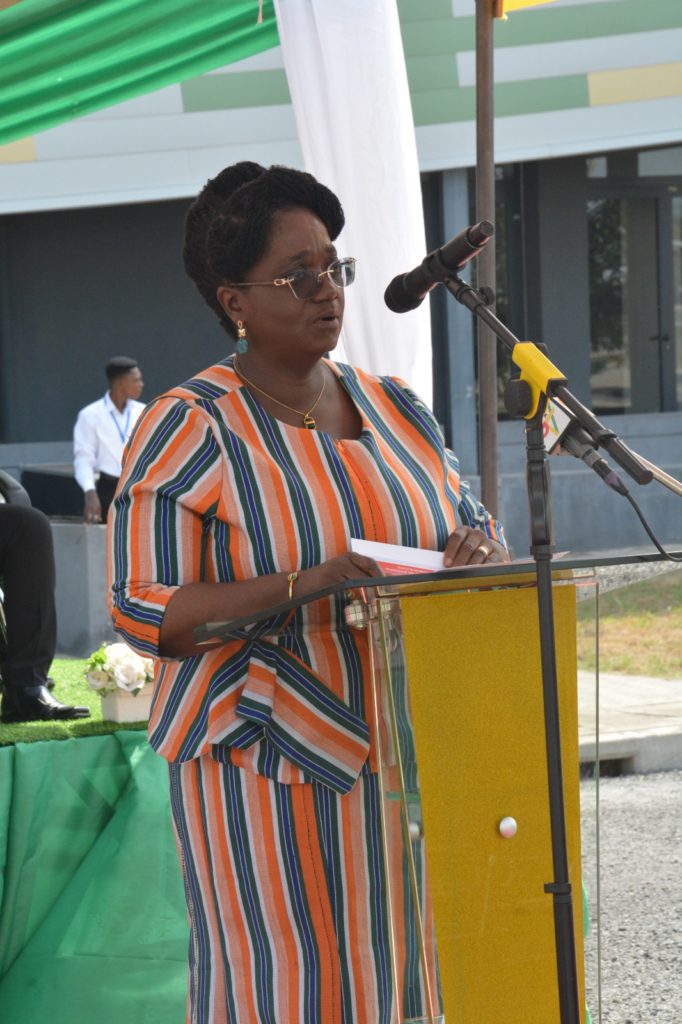 Prof. Ayertey expressed joy at the milestone in the history of the University. He congratulated the Vice-Chancellor, Prof. Eric Nyarko-Sampson and the University Community on their commitment and hard work in the past two (2) years. Prof. Ayertey urged the University Community to continue with the good work saying, "work now and your work will speak for you."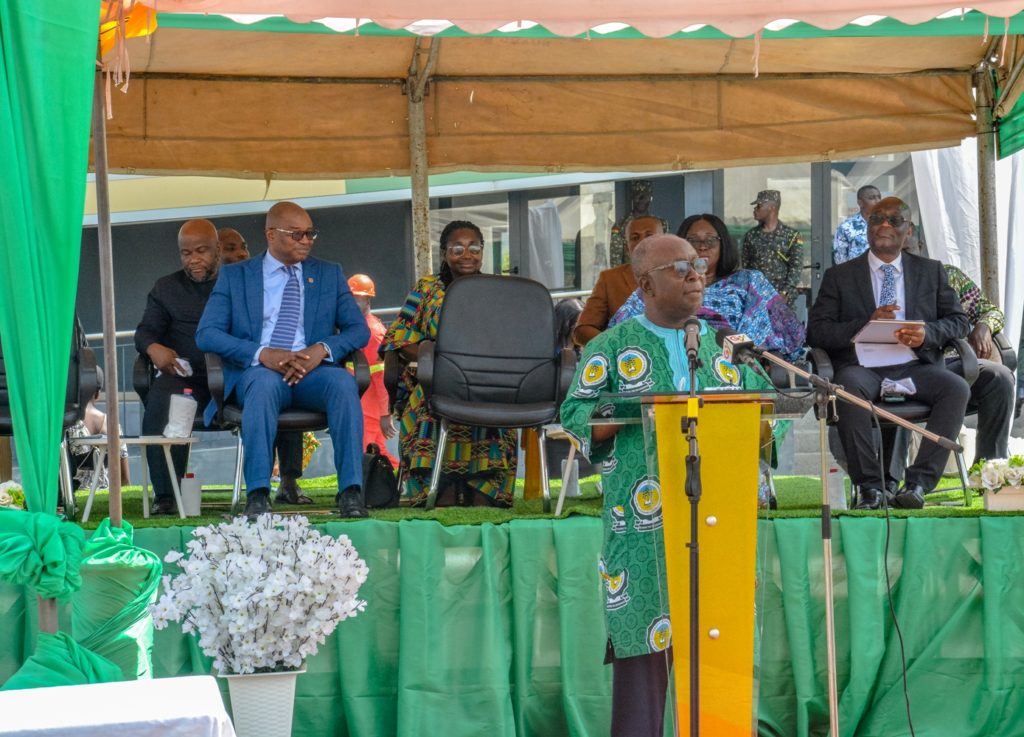 The Council Chairman also launched the UESD Student's handbook. The Vice-Chancellor, Prof. Eric Nyarko-Sampson invited the Dean of Students, Dr. Daniella D. Sedegah, the immediate past Student Representative Council (SRC) President, Mr. Certainly Djangatey and the current President, Ms. Esther Appah to unveil the package.
The Vice-Chancellor commended Mr. Djangatey and his team for working tirelessly working with Management to get the Handbook published. He impressed upon Miss Appah and her team to enforce the rules of the handbook by reading it, understanding and encouraging their colleagues to restrain from undesirable behaviours that will lead to the enforcement of the rules of the handbook against them.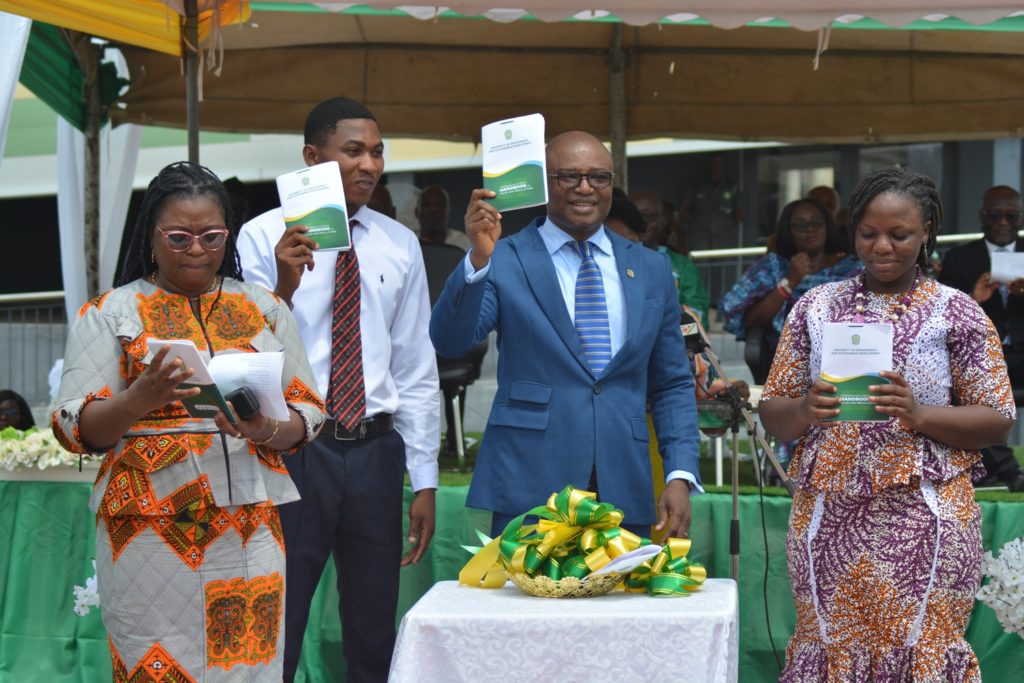 The Vice-Chancellor officially presented copies of the hanbook to the Council Chairman, Prof. Ayertey and the SRC President Ms. Appah.