A renowned Water Resource Consultant in Groundwater Extraction and Treatment, Rev. Dr. Ing. Appiah Duah, says even though Ghana has made significant gains in the provision of access to water on a national scale, little progress has been made in the provision of access to clean water for all.
 He has therefore challenged the government of Ghana to strengthen its facilitating role in ensuring that State institutions like the Water Resources Commission (WRC), the Ministry of Lands and Forestry, the Environmental Protection Agency (EPA) and the Metropolitan, Municipal and District Assemblies (MMDAs), continue to effectively monitor and protect the country's water bodies.
Ing. Appiah Duah was delivering a paper as the Guest Speaker at the 3rd Commencement Lecture of the University of Environment and Sustainable Development (UESD) on February 11, 2023 at the Forecourt of the Multipurpose Building of the University on the theme, "Securing the environment – Our water, our future".
Ing. Appiah Duah indicated that immediate pragmatic steps need to be taken to ensure that human survival is always maintained. He said, despite efforts by state agencies and institutions in securing the water resources, the heights of degradation being visited on the environment and water bodies in the country continue keeps rising.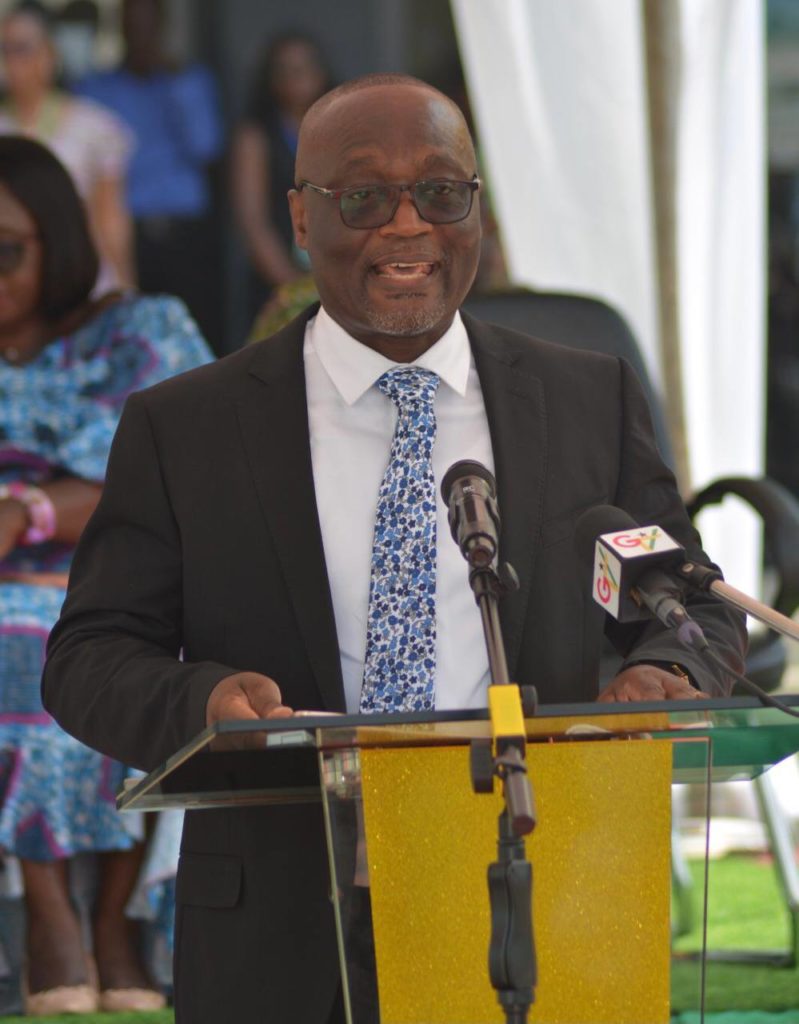 The Water Consultant with more than thirty (30) years experience stressed that one of the vital components of the environment is water resources, which are fundamental to life, but sadly, 'this precious resource is increasing in demand and under threat.' He observed that no living organism including humans, plants, animals, and macro and micro-organisms can survive without water and so there is a need to protect this vital resource.
CHALLENGES: The Water Consultant said, water affects lives, livelihoods, health of people, economies and the environment. He revealed that challenges affecting water resources in, Ghana are both internal and external. He attributed the external factors to climate change while the domestic factors are linked to human activities that affect the quantity and quality of water supply.
Ing. Appiah Duah, indicated that the indiscriminate destruction of forest reserves by illegal chain-saw operations and poor land use practices results in rapid deforestation, exposing water bodies to high evaporation and pollution. One of the human activities which adversely affect water resources are: the said excessive use of inorganic fertilizers which pollute water bodies in farming areas, and the infamous illegal mining referred to as 'galamsey' which stands tall.
He said, galamsey in particular has destroyed and continues to destroy many water sources and hamper the success of the 'clean water for all' goal envisaged by the UN Sustainable Development Goals programme. He bemoaned the situation of Ghana Water Company Limited (GWCL) having to shut down some of its water treatment facilities in some gold mining areas due to their activities
Ing. Appiah Duah said, due to the high level of turbidity, the government has to spend huge sums of money to treat water and incur extra costs to maintain the plants and equipment which consequently work far beyond capacity in order to get the silted water to a drinkable level. He expressed fear that, if immediate steps are not taken to address challenges in the water sector, the country will be thrown into a state of pandemonium for lack of good and safe drinking water if GWCL shuts down its water treatment plants.
SOLUTIONS: To address the water situation, the Water Consultant proffered some solutions. He said, aside from regulatory agencies and state institutions like the WRC, EPA, Minerals Commission, Ministry of Lands and Forestry, MMDA's monitoring and protecting the environment, there is a collective responsibility bestowed on the citizenry to limit polluting clean water resources through a collective resolve to refrain from the disposal of solid and liquid waste into water bodies, the excessive use of agrochemicals on farmlands, indiscriminate destruction of forest reserves, unauthorized sand-winning near water bodies, illegal mining in and around water bodies.
He stated that to achieve SDG Goal 6- clean water and sanitation for all by 2030– the government must take preventive action to protect clean water sources, it must improve water infrastructure in rural areas, particularly in Northern Ghana, and take corrective measures to repair damaged infrastructure in urban communities.
He said, the citizenry are stewards of the environment and must bear in mind that the future of Ghana's Water Resources depends on our collective actions and inactions. We cannot eat our cake and still have it, stating that: 'Water is life and there is no alternative to water, he ended.