Prof. Eric Nyarko-Sampson has been formally sworn in as the first Vice-Chancellor of the University of Environment and Sustainable Development, (UESD) situated at Somanya in the Eastern Region. This took place at a colorful ceremony held at the Forecourt of the University's Multi-Purpose Building on the 3rd of June, 2022. The Registrar Mrs Mary Abena Agyapong was also inducted as the first Registrar of the University.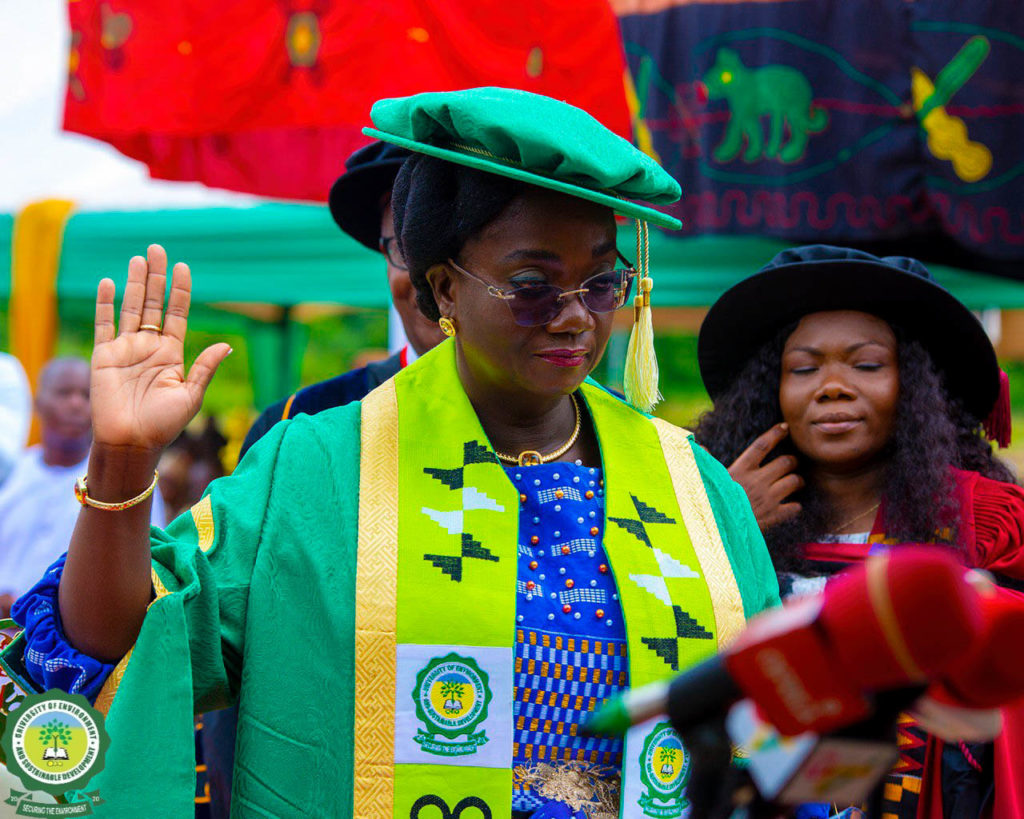 The event was witnessed by a Deputy Minister of Education, Hon. Rev. John Ntim Forjour, (the President's representative), Minister for Railways Development, Hon. John-Peter Amewu(MP), Vice-Chancellors of some Universities in Ghana, the Clergy including the Presiding Bishop of the Methodist Church, Ghana, the Yilo Krobo Municipal Chief imam, traditional rulers in the Municipality, Service Commanders, Komenda Old Students Association, the Council Chairman, Prof. Jonathan Ayertey, the newly appointed Pro-Vice-Chancellor, Prof. Edward Wiafe-Debrah, UESD Council and Management members, the Deans of the University, Heads of Directorates and Units, Convocation, Staff and students, the family members and well-wishers of the Vice-Chancellor and Registrar.
The Council Chairman, Prof. Ayertey swore the two into the office and administered the Oath of Office. The Registrar, Mrs Mary Abena Agyepong was first to be inducted followed by Prof. Eric Nyarko-Sampson's Investiture. The Council Chairman commended the two for the great work they have done for the University since it started operations more than one and a half years ago.
Prof. Nyarko-Sampson said, his vision as a Vice-Chancellor is to take the necessary steps to establish a strong foundation upon which a University that is comparable to any other anywhere in the world could be built. To do this, he set for himself a set of defined strategic indicators which constitutes the pillars of his vision. These include the Programmes on offer, the use of technology, collaborative research, students, and the institution of Faculty and Staff awards.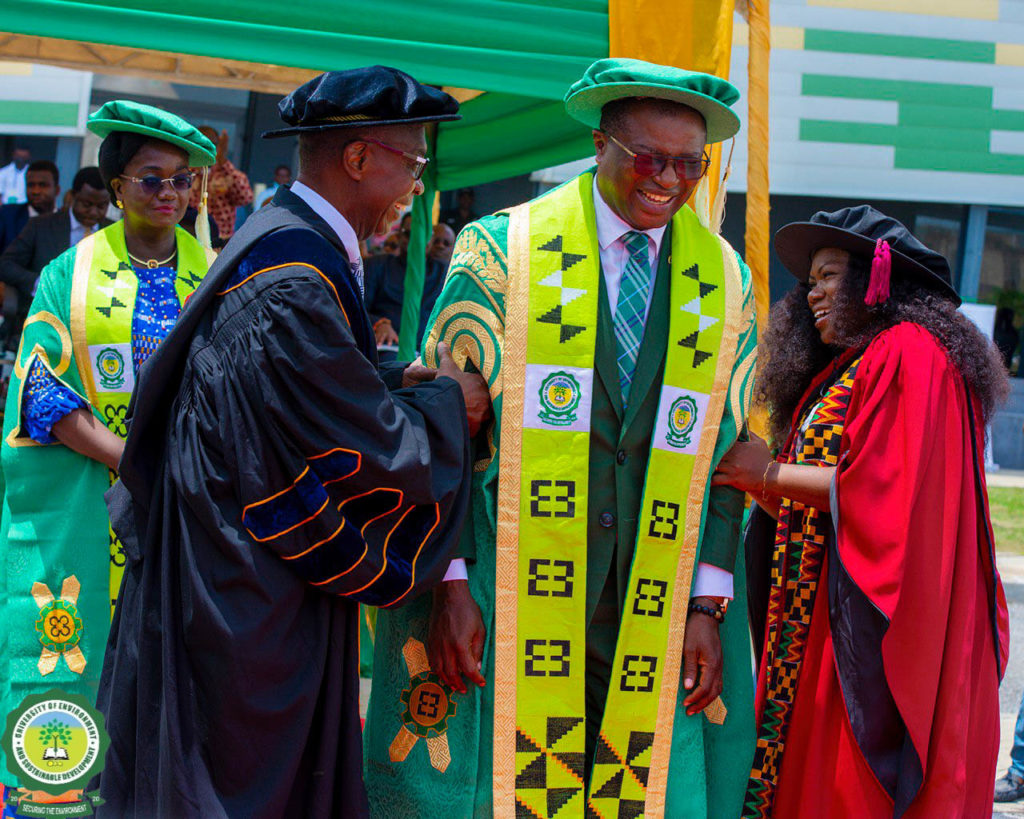 The President's representative, the Hon. Rev. John Ntim Forjour  speech, said, the UESD was established at a time when the world was experiencing global challenges like climate change and induced disasters. It is important that as a University, it positions itself for the world to seek solutions at its doorstep. In so doing, it will bring the world to Somanya. He announced that as part of the government's policy to increase tertiary enrolment, it is going to establish five more Universities in the newly created Regions in the country before the end of the year. In attendance were the UESD Choir and the Mawu Senokobe at Adjikpo.