The School of Sustainable Development, (SSD) of the University of Environment and Sustainable Development, Somanya has presented certificates and cash prizes to participants of the maiden SSD debate which took place on the 4th of May 2022, at the Multi-purpose Auditorium.
The motion was; "Has the Russia-Ukraine war exerted any direct economic implications on African countries?"
Students of the Department of Water Resources and Sustainable Development, represented by: Esther Appah, Nana Abena Gyamfi and Richard Padi spoke for the motion, while their counterparts from the Department of Sustainable Energy and Resources represented by: Portia Tei Korliki, Emmanuel Twum and Elikplim Amerko spoke against it.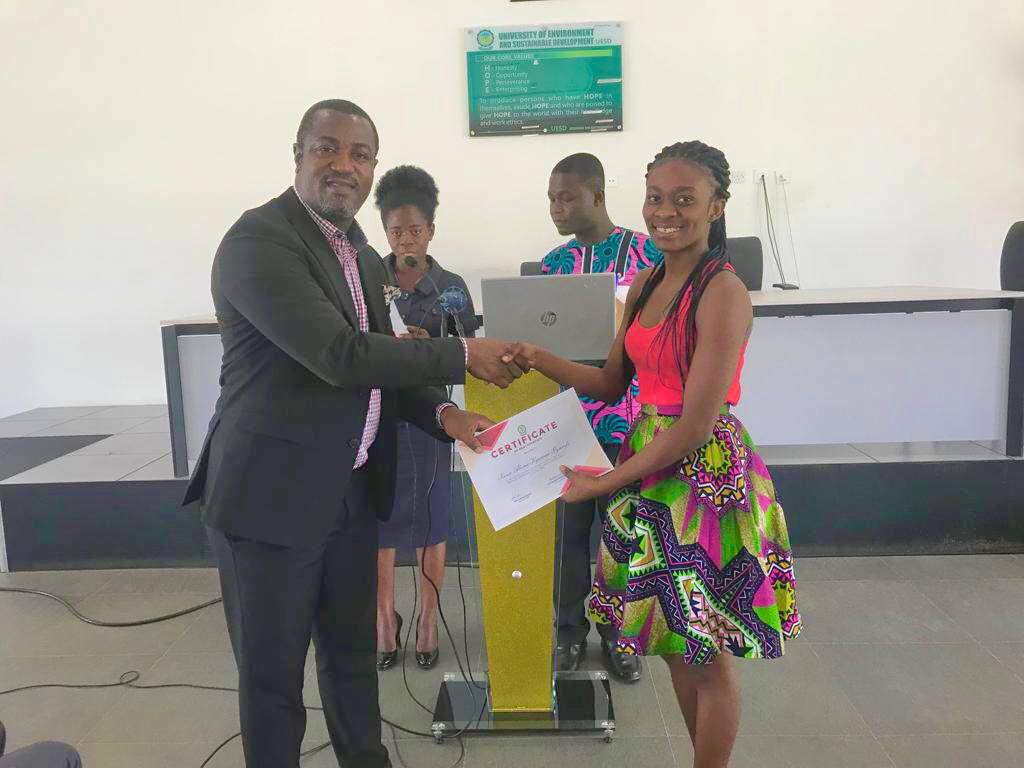 The three rounds of gruelling 'intense' debate was witnessed by a packed audience, moderated by Edward Twumasi Akrasi of the University Relations Unit. The Panel members were: Dr. Hammond Oppong Kwarteng (Senior Assistant Registrar at the Vice-chancellor's office), Dr. Padikuor Madjitey (Senior Assistant Registrar in Quality Assurance and Planning Unit) and Ms. Cynthia Oduro Ameyaa (Assistant Registrar at the Research, Innovation and Consultancy Unit).
After about one and a half hours of heated contest, debaters from the Department of Sustainable Energy and Resources, were pronounced winners by the Chairman of the occasion, Prof. Alexander Nii Moi Pappoe also of SSD.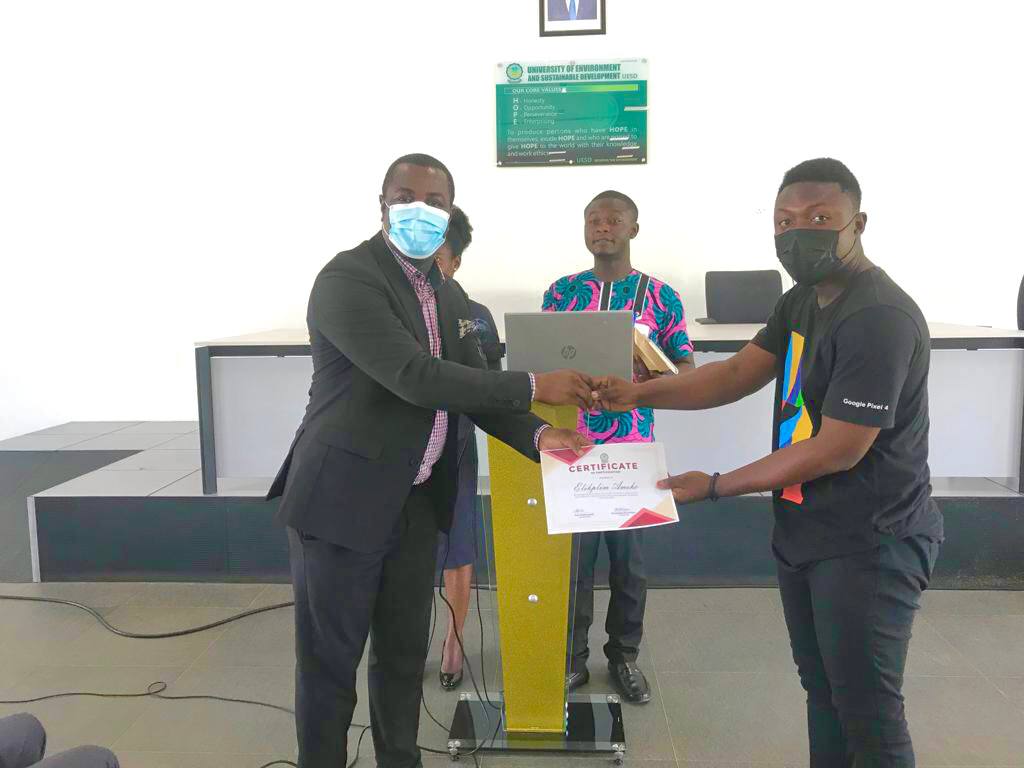 Prof. Pappoe in his remarks stated that the debate was to stimulate the minds of the students, improve research and enhance competitiveness through healthy academic discourse among them. He indicated that aside from the university imparting knowledge to students through the traditional means of teaching and learning in classrooms, debating comes in handy to present students with the unique opportunity to contextualize their thoughts and knowledge in a much-structured form to enhance effective communication.
Presenting the certificates and cash prizes to the participants, the Dean of SSD, Prof. Anthony Amoah commended the organizers, the coaches and the debaters for their selfless contributions to the success of the programme.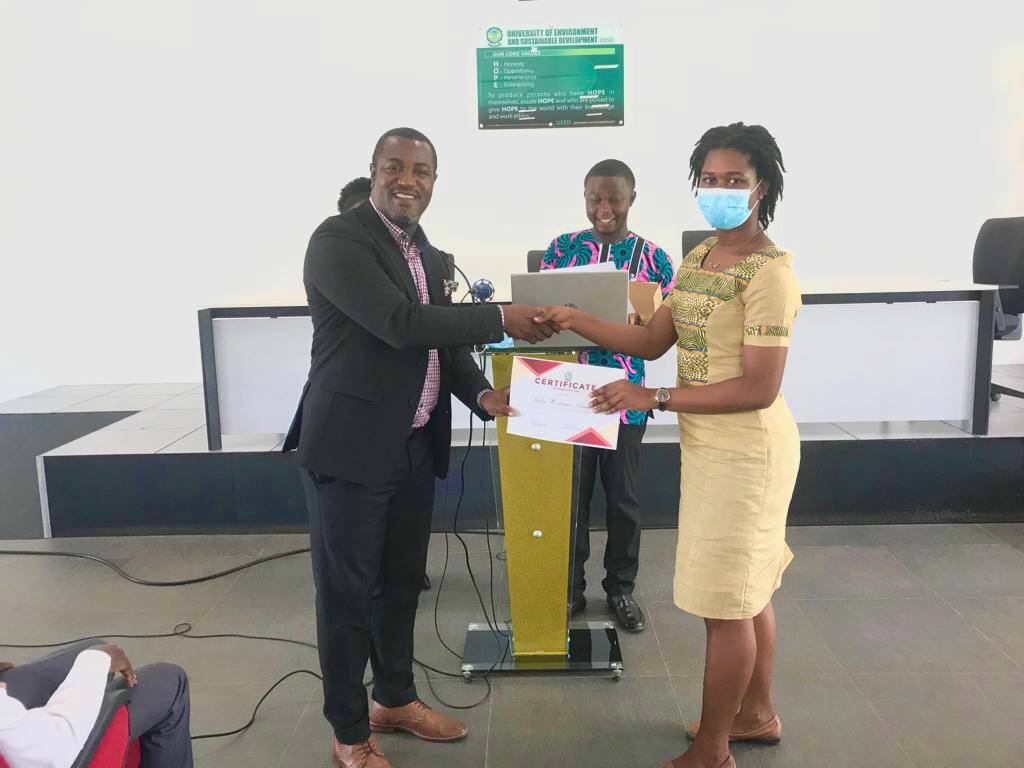 Prof. Amoah, also presented certificates to winners of the first-ever inter-schools debate held last year between the School of Sustainable Development (SSD) and the School of Natural and Environmental Sciences They were, Gifty Samanyi and Jessica Ahemaa Amoako both from SSD.
He explained that the certificates and awards presented to the students were arouse students' appeal for advanced learning, improved scholarship and hard work. He encouraged students to take advantage of the annual debating programme to expand their scope of research, critical thinking and public speaking abilities.
The programme was attended by the Dean of Students, Dr. (Mrs) Daniella Delali Dedegah, the Head of Department of the Department of Water Resources and Sustainable Development, Dr. Michael Tuffour, Lecturers, Administrative staff and a cross-section of student.