An Elder of the Church of Pentecost, Ghana, Spintex branch, Elder (Dr.) Michael Tuffour, has resonated the need for Management, staff and stakeholders of the University of Environment and Sustainable Development, (UESD)to be thankful for the gains and eliminate fear from their dictionary in order to execute the institution's mandate successfully.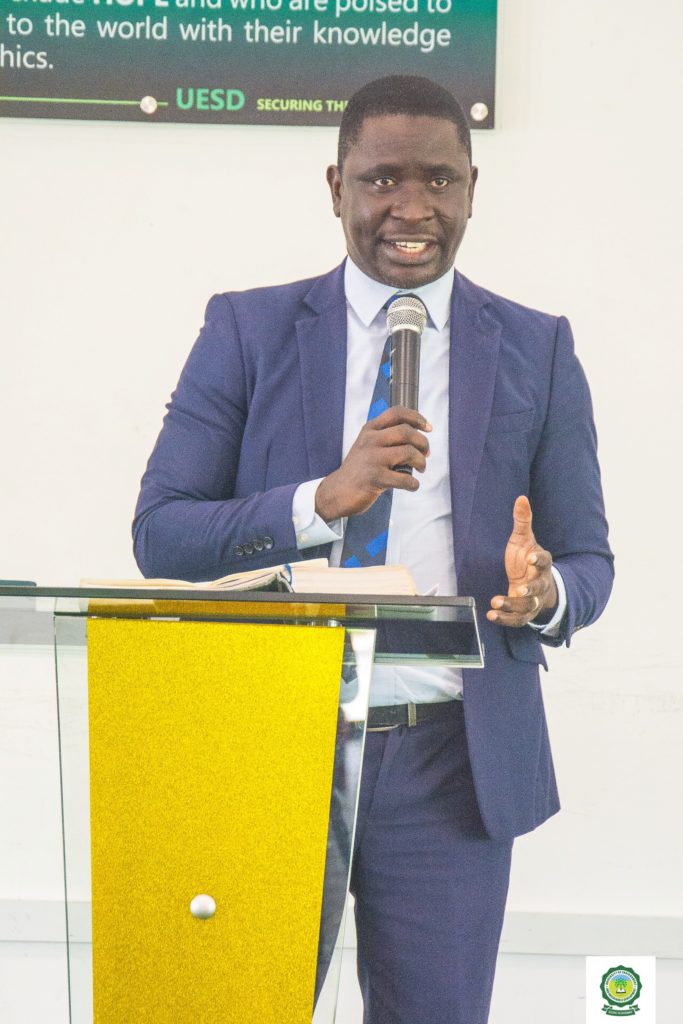 Elder (Dr.) Tuffour, who is also the Head of Department of Sustainable Development and Policy at the School of Sustainable Development was delivering a sermon at the fifth thanksgiving service for staff and students of the University held at its Auditorium, Multi-Purpose Building to mark the end of the 2022/23 academic year. It was on the theme: 'At All Times,' taken from Colossians 3:17.
Present were the Vice-Chancellor, Prof. Eric Nyarko-Sampson the Registrar, Mrs Mary Abena Agyepong and some Senior Members.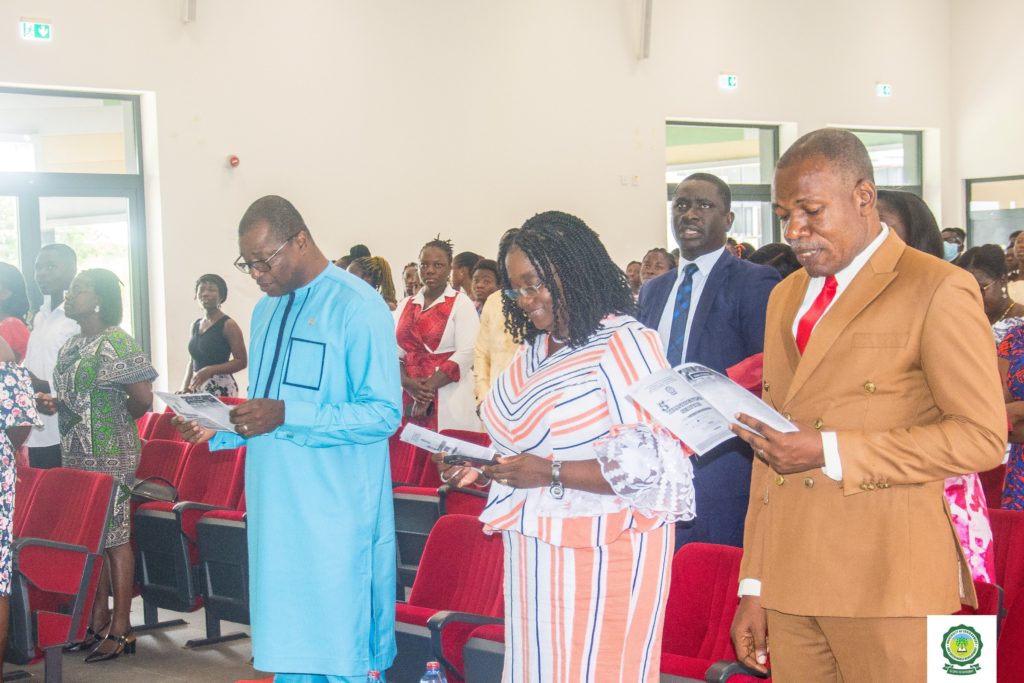 Speaking on the sub theme: Why people don't have the course to serve the Lord, (Exodus 14:10-11, Job 2:9 and 1 Samuel 30:3), Elder (Dr.) Tuffour said, when prayers go unanswered, people stop serving God; yet, now is the time to lift up praise since it affects outcomes and has a spiritual foundation.
He said, even virtuous people experience hardships, but how they respond to them decides the outcome, and he challenged the university community to work together to push UESD to fulfil its mission, vision, and core values in order to support the university's mission.
In her remarks, the Registrar, Mrs Mary Abena Agyepong, was thankful for a successful academic year despite the challenges and how the University Community is turning the challenges into outstanding results.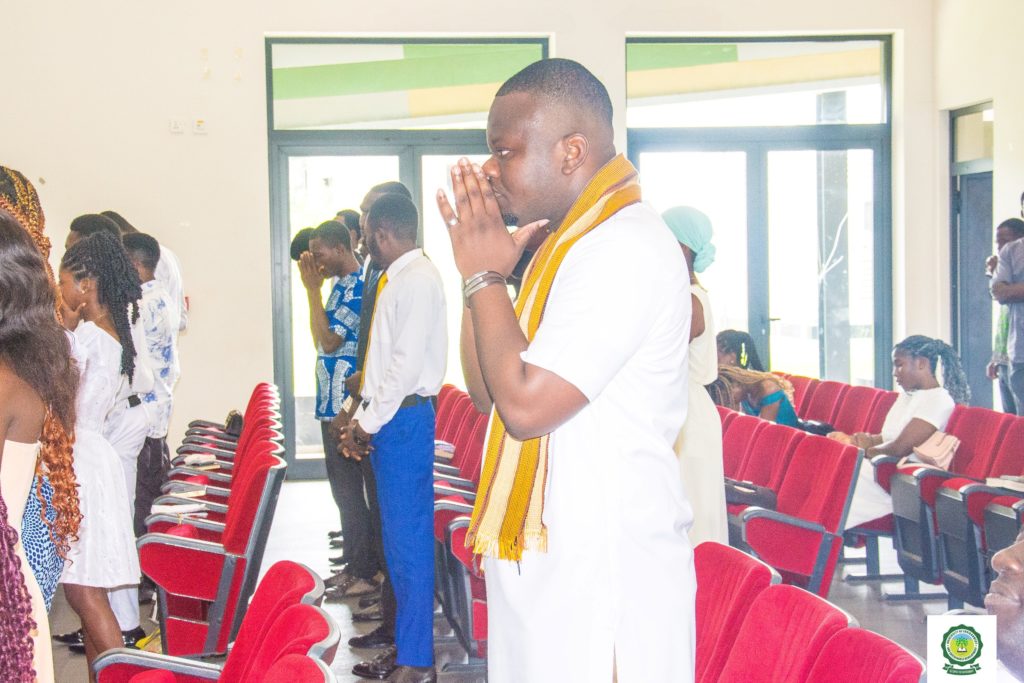 The host of the programme, the Vice-Chancellor, Prof. Eric Nyarko-Sampson said, on September 29, 2020, he received the keys to the University's empty rooms, instructing him to hire people, list jobs, and establish procedures to create a work atmosphere that is conducive to productivity. He stated that despite being only three years old, the university has already achieved a number of things, such as status and accreditation, winning the GES National Union of Ghana Students (NUGS) award, for Public University of the Year 2022–2023 and receiving numerous prestigious Research Grants.
Prof. Nyarko-Sampson said, UESD has come a long way and 'indeed God is with us at all time and he is thankful at the pace UESD is going'. He encouraged the students to be guided by the Core Values of the University acronymned HOPE– Honest, Opportunity, Perseverance and Enterprising.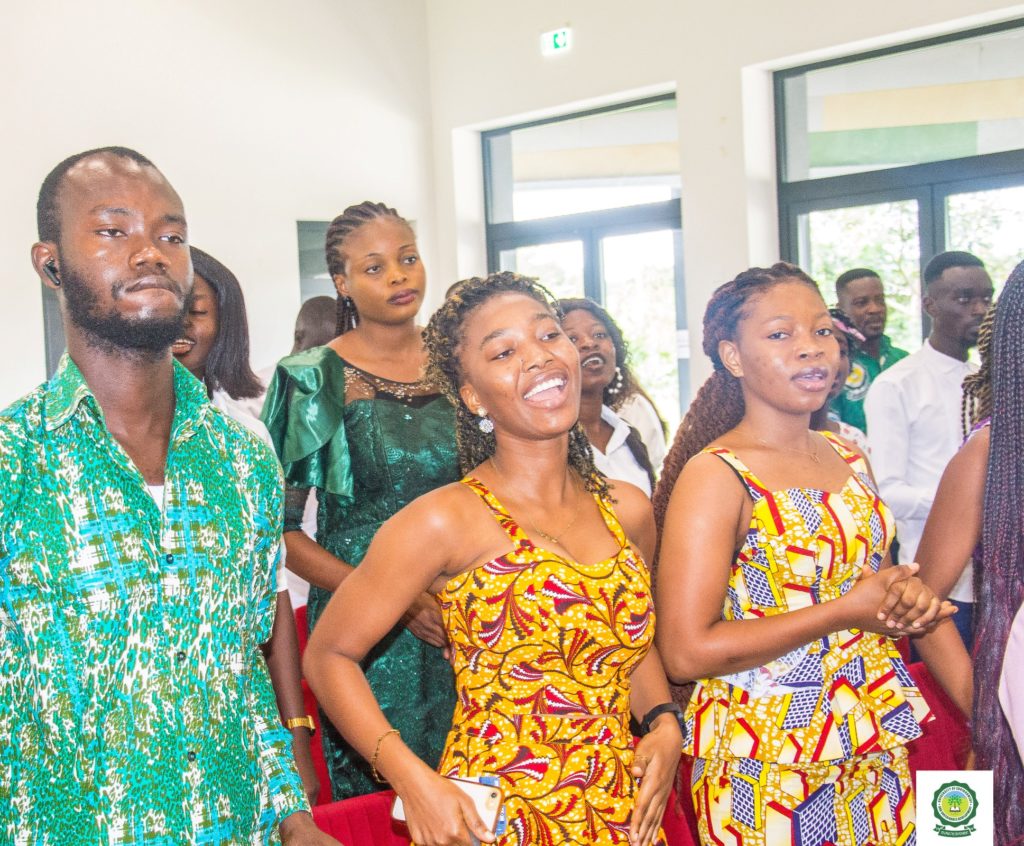 Prayers were offered up for the university's student body and the newly elected UCF Executives. The UCF and UESD choristers took the lead during song ministry.
Prayers were offered for the University community and the newly elected Executives of the University Christian Fellowship, (UCF) Executives. The UESD and UCF choirs led in song ministration.