The University of Environment and Sustainable Development, (UESD) at Somanya in the Eastern Region and the West African Primate Conservation Action, (WAPCA), an Environmental NGO have signed a Memorandum of Understanding, MoU to collaborate in Primate Research and other endangered species.
The Ag. Dean of the School of Natural and Environmental Sciences, SNES, Prof. Edward Wiafe Debrah signed for the UESD while the Research and Education Co-ordinator of WAPCA, Ms. Nuria Badiella signed for her organisation.
The signing ceremony which took place at the Council Chamber of the University was witnessed by the Vice-Chancellor, Prof. Eric Nyarko-Sampson, some members of Management, and Staff of the University as well as the Project Support Officer of WAPCA, Miss Veronica Dandzo-Adzagudu.
Prof. Nyarko-Sampson reiterated that the mandate of the UESD is to protect the environment, and as such, programmes offered have been drafted with concepts of Environmental Sustainability. He prayed that the University will win more grants for research to boost its programmes. The Vice-Chancellor indicated the UESD's commitment to the signing and maintenance of the agreement in the MoU.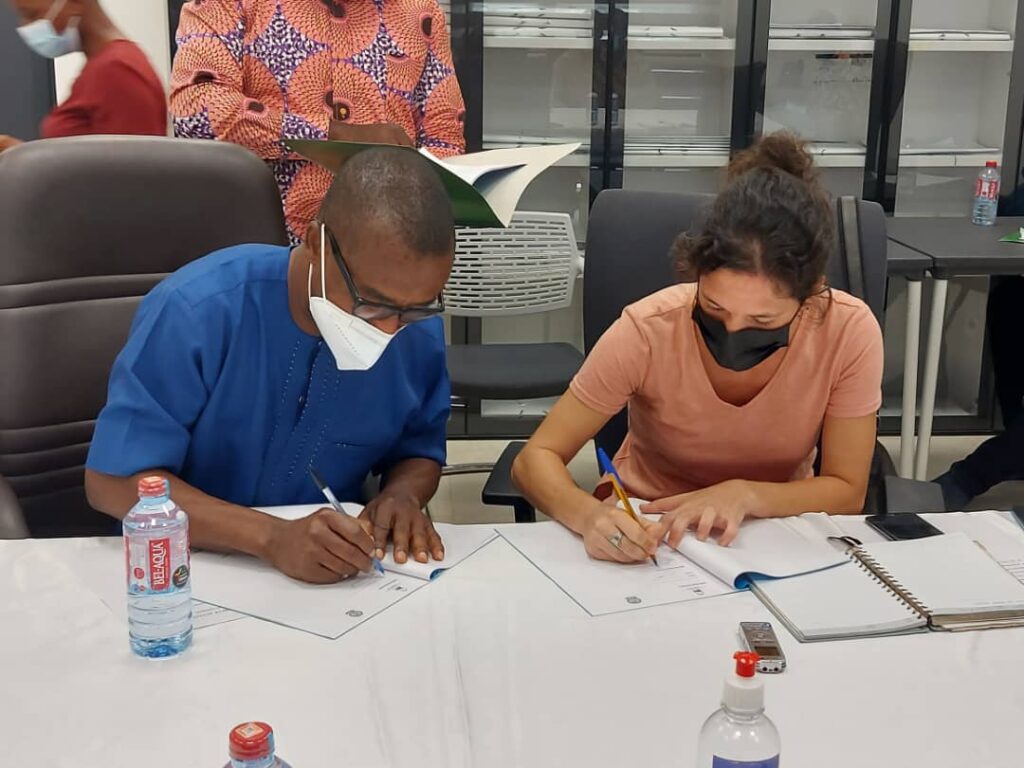 Commenting, Ms. Badiella of WAPCA said, her organisation is an NGO working in Ghana and Cote D'lvoire to preserve and protect the threatened primates of West Africa through community empowerment, research, education and reserve breeding. She said, it is spearheaded by Heildelberg zoo in Germany with core funding from the membership of European Zoological Collections.
Ms. Badiella, expressed the hope that the partnership with the UESD will not only contribute to the preservation of endangered species but protect the environment as well. She assured the UESD of her organisation's support and preparedness to collaborate in all areas captured in the MoU.
 The Ag. Dean of the School of Natural and Environmental Sciences, Prof. Edward Wiafe Debrah, who is also an environmentalist and Board Member of WAPCA, disclosed that the organisation wrote to the government of Ghana to halt the mining of Bauxite in the Atiwa forest because some endangered species had been found there. He said, government obliged and demarcated some areas of the forest from human activities.
 He said, WAPCA rescues endangered animal species like the White-naped mangabey (cercocebus lunulatus) and the White thighed colobus (vellerasus), quarantine and released them back into the wild after some time.
The Senior Assistant Registrar, SAR in-charge of General Administration and Services, Mrs Vivian De-Great Aidoo, speaking on behalf of the Registrar, Mrs Mary Abena Agyepong, expressed joy at the partnership between the two (2) institutions and hoped it will yield to their mutual benefit. The team from WAPCA was shown round the UESD campus. END