The Head of Legal Service at the Bank of Ghana, Mrs. Ablah Masoperh, has commended the University of Environment and Sustainable Development (UESD) for instituting the HOPE Roadshow as an annual project to inculcate its core values (Honest, Opportunity, Perseverance, and Opportunity) into the University Community.
Mrs. Masoperh observed that the nation's challenges largely stem from the calibre of leaders the country has had for the past decades. She said, political leaders, religious leaders, public service workers in leadership positions as well as student leaders hold stakes in the nation's development. In view of this, Mrs. Masoperh said, the advantage to be derived from UESD's HOPE Roadshow cannot be over-emphasized as it is expected to train young persons to renew their worldview in a manner necessary for the nation's progress.
Mrs. Masoperh was making a presentation as a Resource Person in one of the HOPE Roadshow sessions to students of the UESD on the theme: "Honesty, the key to success." Mrs. Masoperh defined honesty as a conscious effort of being truthful, sincere, and free of deceit. She said, this is a very crucial virtue that all positive change agents should possess. She stated that as one strives to be honest, character is ultimately built, credibility and certainty enhanced and personal and national development are automatically realised.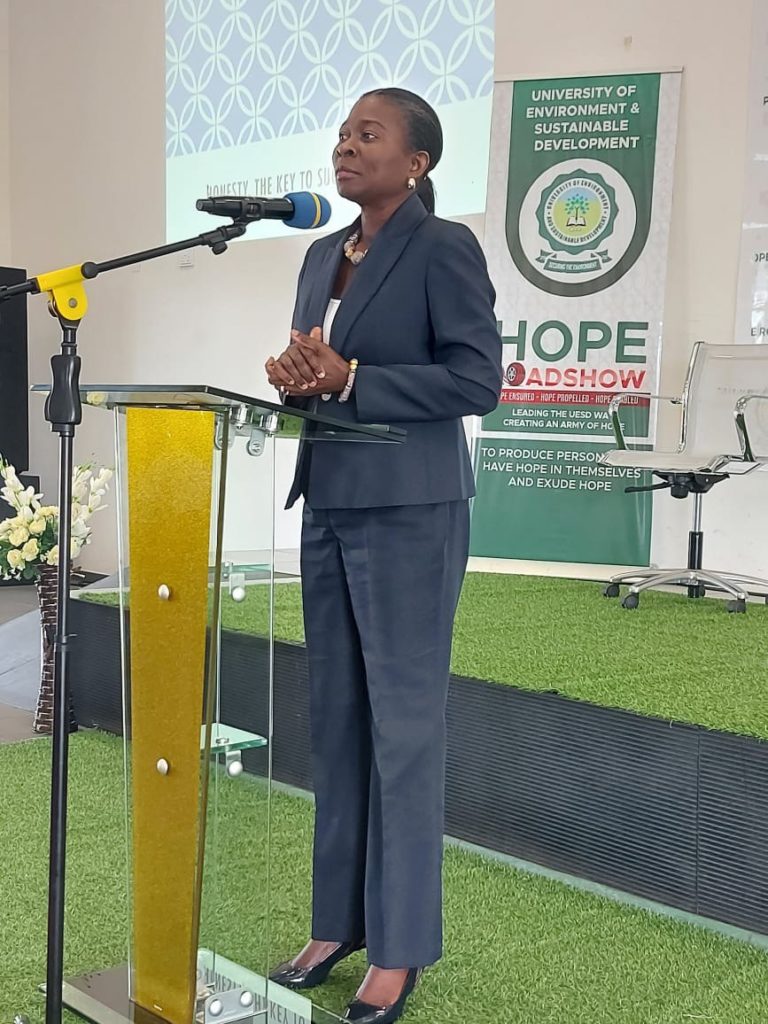 The astute lawyer observed that, honesty alone is not enough. She revealed instances where one could act honestly but may have an ulterior motive to appear honest. There is no room for selective honesty, she intimated. Mrs. Masoperh explained that honesty is only a subset of a broader concept called integrity. She said, for a more significant impact, honesty should always be situated within the context of integrity. With integrity, one stays truthful at all costs irrespective of the consequences.
Mrs. Masoperh said, integrity is a sustainable value that is unwavering and is able to stand the test of time and a person with integrity endeavours to do the right thing whether he/she is being watched or not.
Answering a question on why some leaders act dishonestly, Mrs Masoperh opined that integrity is a matter of the heart and a personal conviction to do the right thing at all times and so, even though people are taught to be honest, not everybody acknowledges its significance in the light of personal interests.
She charged the students to make conscious efforts to be upright, act right, and resolve to spread awareness. She said, this is the only way these virtues could make the desired impact within Ghana and beyond.
The Dean of the School of Natural and Environmental Sciences (SNES) and Chairman of the occasion, Prof. Kofi Mensah Nyarko, also encouraged the students to hold on to the core values of UESD as nuggets of HOPE based on which their approach to life would be positively transformed.