The German Agency for International Corporation (GIZ), through the Centre for International Migration, has donated work station equipment to the University of Environment and Sustainable Development, (UESD), at Somanya in the Eastern Region. The items, estimated at Ten Thousand Euros (10,000e), include a desktop computer, laptop, printer, projector, stereomicroscope, camera, weather station, and handheld GPS.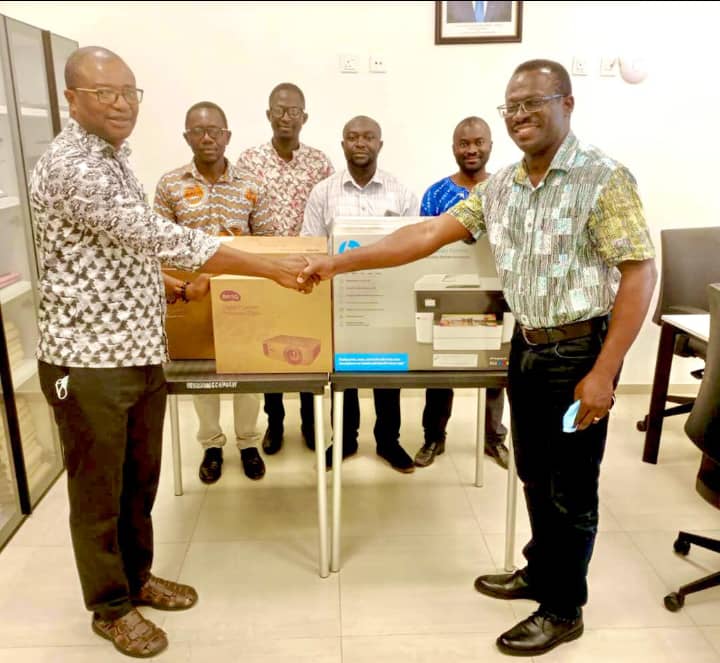 The items were presented at the Council Chamber of the University by Dr. Owusu Fordjour Aidoo, a Lecturer at the Department of Biological, Physical and Mathematical Sciences at UESD.
The donation is part of the German government's arrangement to support foreign students who studied in Germany and returned to their home countries to apply the skills and expertise they acquired. The equipment was therefore presented to the University, because Dr. Owusu Fordjour Aidoo, just returned from Germany after obtaining his Ph.D. there and took the Lectureship position at the Department of Biological, Physical and Mathematical Sciences at UESD.
The Vice-Chancellor, Prof. Eric Nyarko-Sampson received the items, expressed appreciation to GIZ for the gesture, and also commended Dr. Aidoo for choosing to work with the UESD.
He was certain, that the equipment will contribute to making a meaningful impact on his work and colleagues, and the UESD as a whole. The Vice-Chancellor encouraged other corporate bodies to emulate the example of GIZ to assist the UESD in diverse ways.
In a related development, a Senior Member of UESD, at the Internal Auditor Department, Mr. Raymond Seth Kojo Akusaki has donated a bicycle to the Services and Security Unit and a pair of drums to the UESD choir. The Vice-Chancellor, Pro-Vice-Chancellor, Registrar, and other Senior Members of UESD observed the presentation that took place at the administration's inner reception.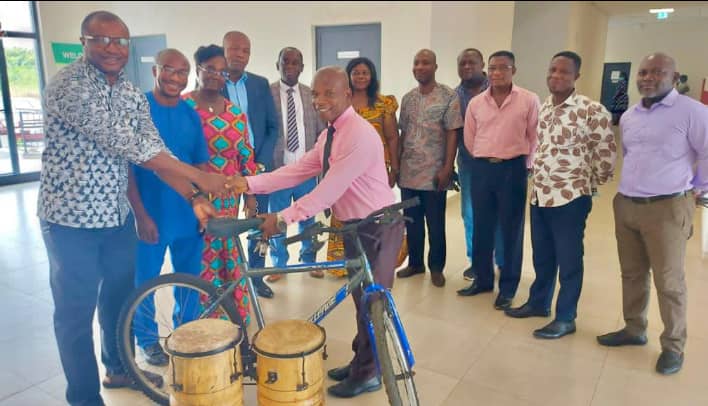 (The Vice-Chancellor of UESD, Prof. Eric Nyarko-Sampson receiving the items from Mr. Raymond Akusaki.)