The 3rd Sustainable Development Conference of the University of Environment and Sustainable Development (UESD) has taken place at a ceremony held in its Auditorium, Multi-Purpose Building, attended by researchers, academia, students from UESD, Civil Society groups as well as Policy experts. The theme for the conference is woven around the Sustainable Development Goal 12; "Integration of Responsible Production and Consumption into Development Agenda of Developing Economies: Exploring Policies and Scientific Options,"
This annual sequencer offers scholars and stakeholders from across the globe the opportunity to share research findings and know-how on sustainable development issues.
In his welcome address to the participants, the Vice-Chancellor of UESD, Prof. Eric Nyarko-Sampson in a recorded message stated that the conference aptly addresses Goal 12 of the Sustainable Development Goals (SDG) which seeks to ensure sustainable consumption and production patterns as a key to sustained livelihoods of current and future generations.
Prof. Nyarko-Sampson attributed the global crises of climate change, biodiversity loss, and pollution to the prevailing unsustainable patterns of consumption and production.
He noted that conferences of this nature are very important to help create a platform where the best academic minds and practitioners brainstorm and share ideas for the preservation of humankind and the ecosystem.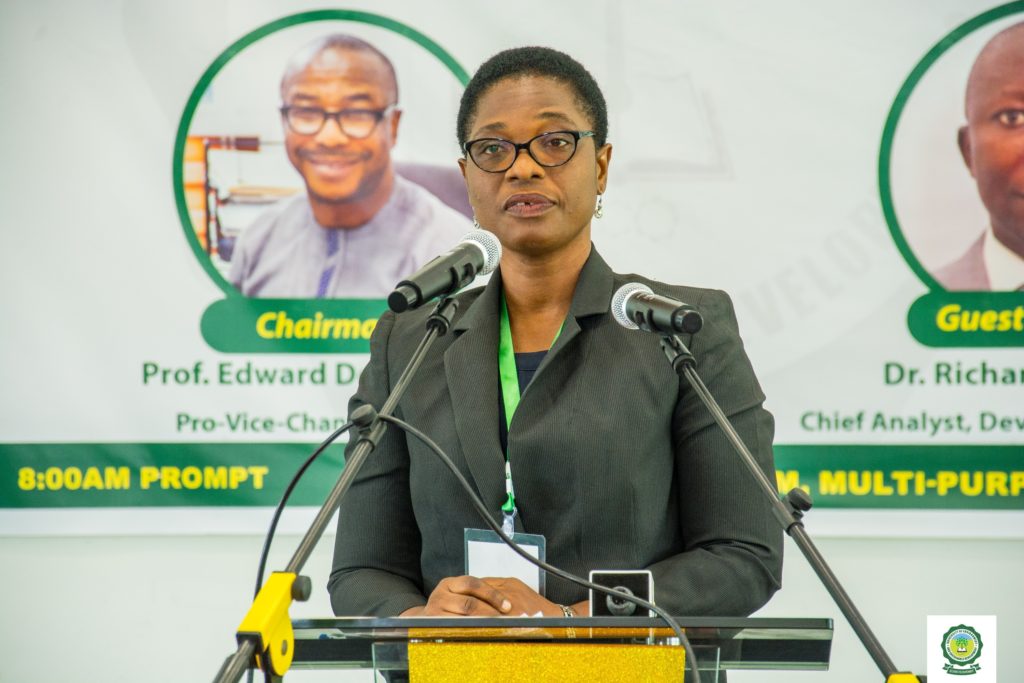 Prof. Nyarko-Sampson also commended the four students of UESD who collaborated with their Lecturers to present at the conference and acknowledged the Lecturers for 'allowing the students to stand on their shoulders to shine'. He said, this presents a new kind of hope to UESD, Ghana, and the research community, 'as there is a promise of enthusiastic, intelligent and hardworking young individuals ready and poise to pick up the baton of academic research in the not-so-distant future' he added.
The Keynote Speaker, Mr. Prosper Ahmed Amuquandoh, a Renewable Energy and Policy Expert was excited to be part of the UESD family that deals with important issues of the Environment and Sustainable Development. This, he stated is a testament that though relatively young, the University is abreast of global trends and is well positioned to be the solution hub for the environmental and sustainable development challenges of Africa.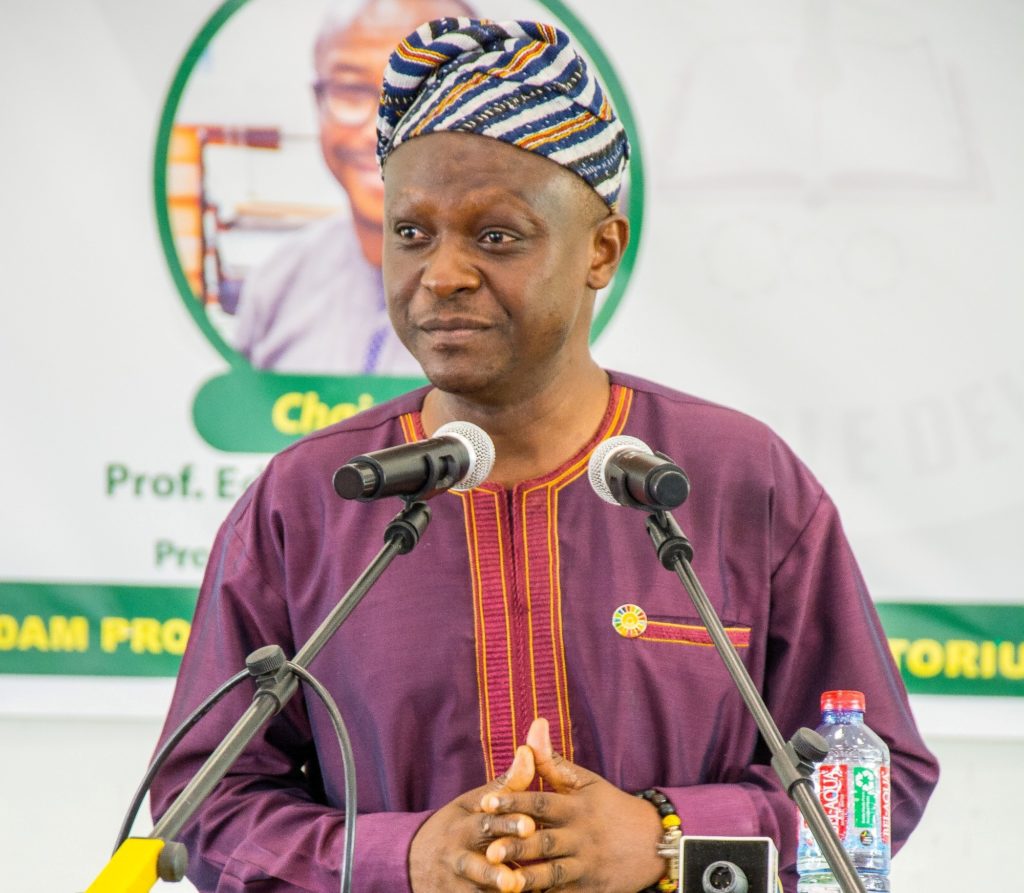 He appealed to the government to as a matter of urgency channel more resources to the University to enable it to play its role effectively.
Presenting on the topic: Integration of Responsible Production and Consumption into the Development Agenda of Developing Economies: Exploring Policies and Scientific Options, Mr.Amuquandoh said, just as the developed economies are doing, it is imperative for developing economies like Ghana, to also start having deliberate conversations on how to restructure their economies to be more resilient to global shocks.
The Guest Speaker, Chief Analyst and SDG national coordinator at the NDPC, Dr. Richard Osei Bofah noted that SDG 12 which is the centre of the conference is key to sustaining the livelihoods of current and future generations. He identified unsustainable mining practices, limited waste recycling, high levels of food waste, and post-harvest losses as some of the challenges in achieving the SDG Goal 12.
He however proffered some strategies to curb the challenges such as; enforcing regulations that promote sustainable mining practices; investing in waste management infrastructure; recycling facilities and public awareness campaigns; supporting farmers with improved postharvest management techniques and investing in research and technology.
The Chairman of the Conference and Ag. Pro. Vice-Chancellor of UESD, Prof. Edward Wiafe Debrah tasked the researchers and participants to adopt a holistic approach in integrating responsible production and consumption of goods and services towards encouraging sustainable practices to foster economic growth in developing countries.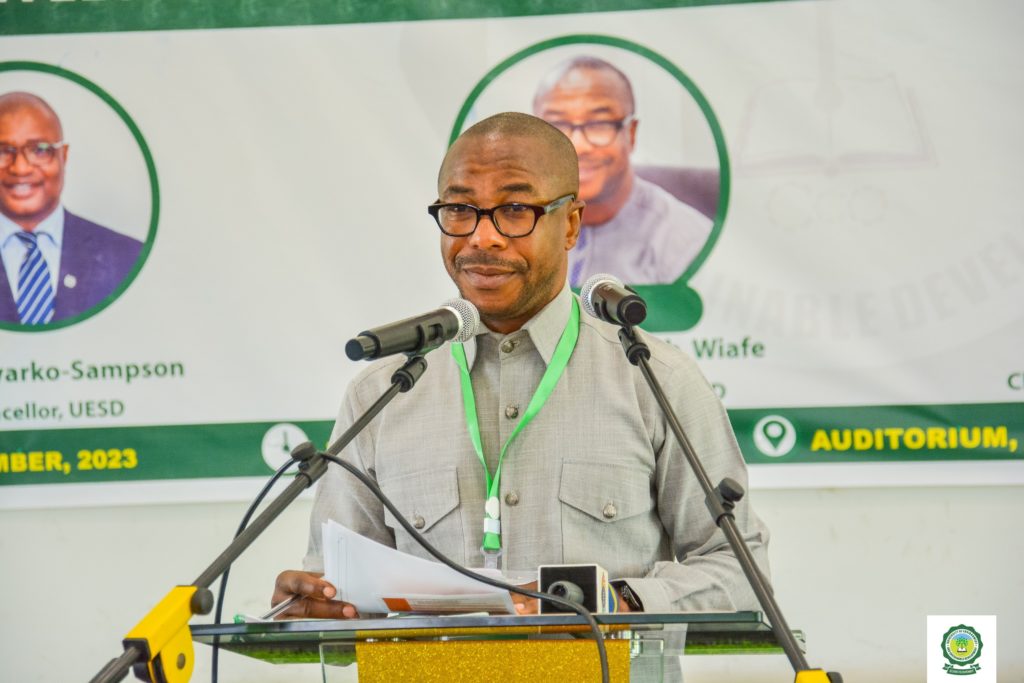 The two-day conference will also discuss; Promoting Responsible Production and Consumption in Ghana, Policy Options to Consider, and Promoting Sustainable Resource Extraction and Consumption: The Case of Surface Mining in Ghana.