History was made on Monday, 4th May, 2021; when the pioneer students of the University of Environment and Sustainable Development, (UESD), began their first ever end of year semester examinations amidst observing the COVID-19 protocols.
The examination took place in the Lecture theatres 4 and 6 and the Library.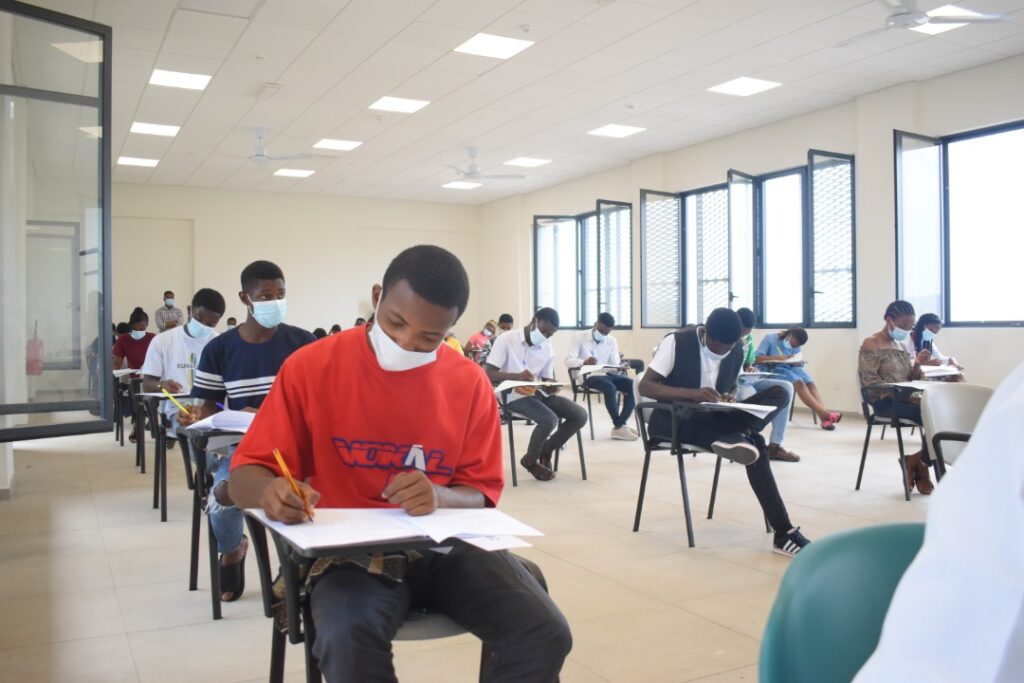 This landmark historic event summed up Academic work on campus since lectures commenced on Monday, 25th January, 2021.
At 9:00 am, the more than seventy (70)students imprinted their ink on the first exams booklet of UESD, to write: UGRC 151: History & Philosophy of Environmental Science, which is a General Paper for all Level 100 students.
Before the exams began, the Chief Invigilator, Dr. Michael Karikari, who is a Lecturer at the School of Sustainable Development (SSD), took the students who were in high spirits through the Rules and Regulations governing the exams.
The Vice-Chancellor, Prof. Eric
Nyarko-Sampson and the Registrar, Mrs. Mary Abena Agyepong were at the examination theatres to encourage the students and to also wish them well.
At the end of the exams, some
students interviewed said the paper met their expectation and expressed optimism about the rest of the papers.
The two- week exams which started on Tuesday, 4thMay, 2021 ends on Friday, 14th May, 2021.
On Thursday, April 29, 2021, the Examinations Unit held an orientation for all examination stakeholders of the University, on how the end of semester exams was to be conducted.
The stakeholders were of made up of Invigilators, Examinations Officers, Examiners, Examination Attendants and students.
The Senior Assistant Registrar at Academic Affairs, Mr. Kofi Nimo Amponsah, was the co-coordinator of the session.