A renowned International Environmental Scientist and Researcher, based in the USA, Dr. Peter Sam was the guest presenter at the maiden seminar organized by the Research, Innovation and Consultancy Unit (RICU) of the University of Environment and Sustainable Development, UESD, at Somanya in the Eastern Region .
It was held at the Multipurpose Auditorium of the University.
His presentation was on the theme 'Advancing Community Stakeholders Partnership Towards Optional Sustainable Community Shared Vision' and attended by members of the University Community, including the Vice-Chancellor, Prof. Eric Nyarko-Sampson, chairman for the occasion, the Registrar, Mrs. Mary Abena Agyepong, faculty and staff members of the University.
Dr. Sam who has decades of experience in research and grant proposal writing was interested in sharing ideas with the participants specifically on how the Research, Innovation and Consultancy Unit, RICU of the UESD could help in the advancement of the University and raise revenue for the institution through research and grant proposals.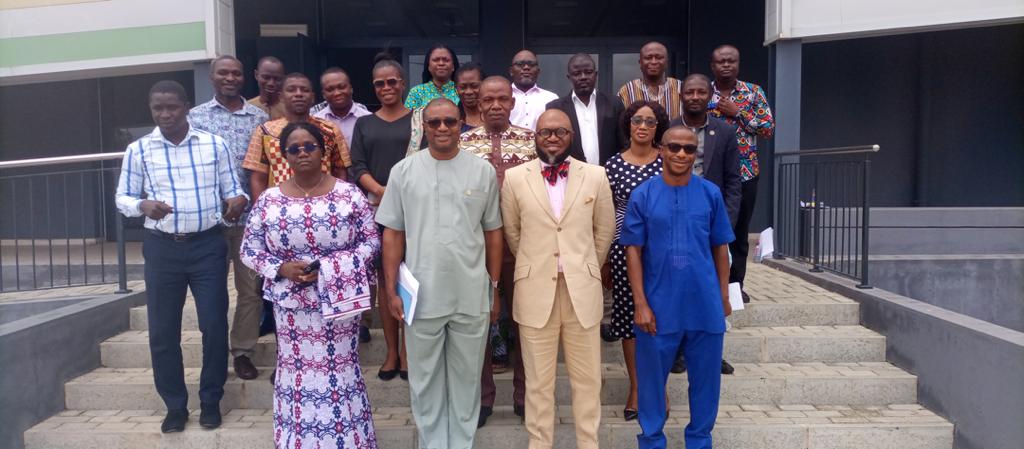 He said, through research and innovation, the UESD could become a hub for big data collection and research analysis for Governmental and Non-Governmental Organizations in Ghana and the world over.
Dr. Sam proposed for a lead UESD Centre for Research Incorporated as a not-for-profit research foundation that operates not only for the benefit of the UESD but for entities to secure multi-disciplinary research projects, funding and grants proposals.
Dr. Sam explained the objective of the proposed establishment is to advance UESD as a Sub-Saharan African National Leader in Research and Innovation. This is possible if the RICU projects the status of the UESD through Research, Post Undergraduate Education and Community Partnership Programmes, but it first needs to initiate relationships with faculty and students on research projects to pursue a variety of projects centered on community development.
He encouraged personnel at RICU to get in touch with stakeholders in research institutions nationally and internationally to help transform applied research into marketable products and services.
The Chairman for the occasion, Vice-Chancellor, Professor Eric Nyarko- Sampson expressed his appreciation to the celebrated researcher for the resourceful ideas he shared with the University community.
He said, Dr. Sam's presentation fitted into the vision and mission of the University and challenged personnel at the RICU to look into Dr. Sam's proposal and tap into his rich experience.